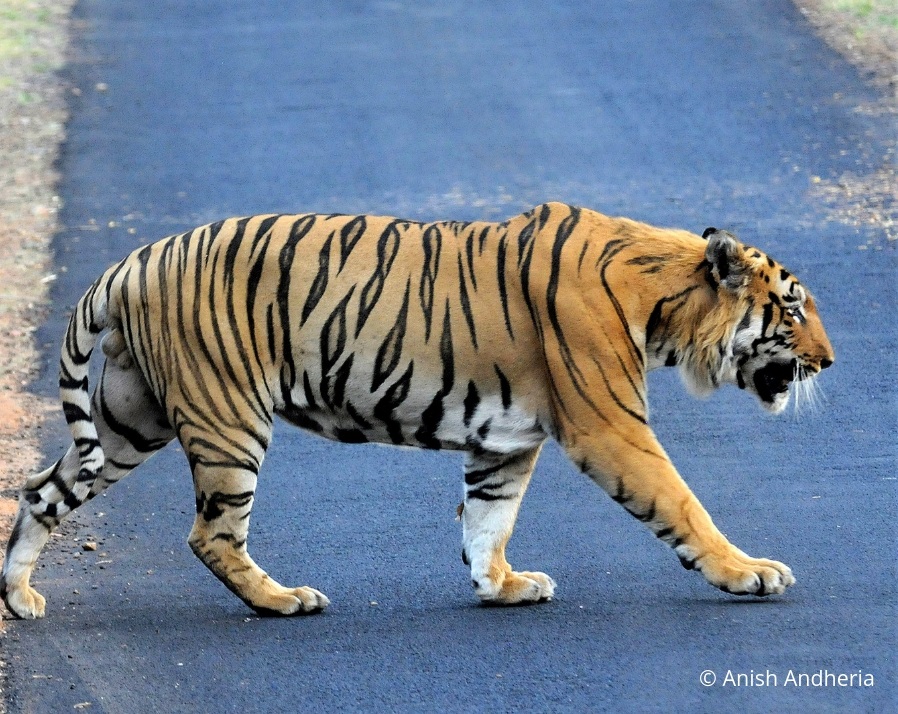 Twenty-seven kilometres a day. We aren't talking travel, but the pace at which roads are being built in India. Though the rate is the highest that the Ministry of Road Transport and Highways has achieved till date, its 'ambitious target' is 41 kilometres a day. India, truly is, on a road-building spree.
Of the current road network, approximately 24,000 kilometres cut through wildlife Protected Areas (PAs), injuring and killing wildlife indiscriminately. Over 1,200 passenger and freight trains run on railway lines – the length of which is yet to be measured – that slither across these prime wildlife habitats. These roads and railways have snuffed out 16 tigers in the last five years; over 150 elephants have been killed by speeding trains in the last eight years. In the past six months, 42 leopards have died on roads and railway lines throughout the country. In a short span of 63 days between December 2017 and February 2018, trains have killed 10 elephants in the state of Assam alone!
As roads, railways, canals and power lines continue to slice-up contiguous forests into smaller fragments, 'linear intrusions' is a buzzword in conservation that is here to stay. Linear infrastructure not only fragments wildlife habitats, it also becomes a barrier to wildlife movement, isolating populations and impeding gene flow.
To conserve wildlife, especially large mammals like tigers and elephants, it is essential to not just conserve large areas, but to also maintain connectivity between sub-populations. Reduced connectivity eventually leads to isolation of populations. Such populations run the risk on inbreeding, leading to reduced survival abilities and reproductive success.
The study of the ecological effects of linear infrastructure intrusions is encompassed by the nascent science of linear infrastructure ecology. The ecological challenges thrown by linear intrusions call for mixed interest partnerships among policy makers, ecologists, conservationists, engineers and law practitioners to find holistic solutions.
To explore such solutions, the Wildlife Conservation Trust (WCT) in collaboration with the U. S. Fish and Wildlife Service (USFWS) and the Global Tiger Forum (GTF) organised an international workshop on capacity building in designing mitigation measures along linear infrastructures in tiger landscapes. Representatives from government departments as well as conservation NGOs from other South Asian tiger range countries like Nepal and Bhutan also participated; these countries face similar problems, as linear infrastructure is being built through wildlife habitats. Experienced road ecologists from the United States National Park Service, the Western Transportation Institute of the University of Montana, and the IUCN's Connectivity Conservation Specialist Group shared advances in the science of linear infrastructure ecology from the western world.
Mitigation measures along linear infrastructure are primarily wildlife crossing structures – built in the form of underpasses and overpasses – that can prevent or reduce mortality and isolation of populations. A varied mix of delegates shared their thoughts on policy, regulatory processes, design challenges, cost-benefit analysis, the implications of habitat fragmentation, and the importance of connectivity conservation.
In India, there is a dearth of scientific studies about the impact of highways and other linear infrastructure on animal movement. As the country builds new roads, railways, canals and powerlines at a rapid pace, solutions to prevent animal mortality and maintain connectivity need to be integrated into these projects at their planning stages. To make this a reality, a conservation budget for mitigation measures along roads and railway lines passing through wildlife habitats should be made part of the project at the blueprint stage.
Over the next five years, the Indian government plans to build over 83,000 km. of roads. Building these economic corridors at the cost of ecological connectivity will be a monumental mistake, for which the future generations will pay a heavy price.
Rizwan Mithawala is a Conservation Writer & Editor with the Wildlife Conservation Trust and a Fellow of the International League of Conservation Writers.
Related Links
Wildlife Week – Unfair Game – Big Cats Lose Prey to Bushmeat Hunters
Law Enforcement – The Weak Link in Big Cat Protection
LetsTalkTigers – Global Tiger Day 2018