We support and partner with grassroots NGOs to tackle region-specific conservation issues in a timely manner.
Amur Falcon Campaign
In 2012, WCT provided essential funding support to grassroots organisations working to halt the Amur Falcon massacre in Nagaland. The campaign worked at various levels, engaging with the Chief Minister and local authorities to pass a regulation to protect the falcons and simultaneously with the local community to sensitise them on the importance of the birds. A teaching manual about the ecology of the Amur Falcon was designed and distributed. In 2013, to our delight, not a single bird was hunted!
……………………………………………………………………………………………………………………………………………………………….
Habitat Restoration
WCT began funding Lifeline for Nature, a local NGO working to restore the Keoladeo Ghana National Park, Rajasthan, in 2012. An UNESCO World Heritage site, the wetland supports an incredible amount of biodiversity – over 365 bird, 375 plant and 50 fish species are found here in addition to several species of mammals, reptiles and invertebrates. An invasive weed Prosopis juliflora had spread rapidly through the wetland, endangering the nesting sites of several migratory birds. With WCT support, over 150 hectares of the wetland were restored.
……………………………………………………………………………………………………………………………………………………………….
Karnala Bird Sanctuary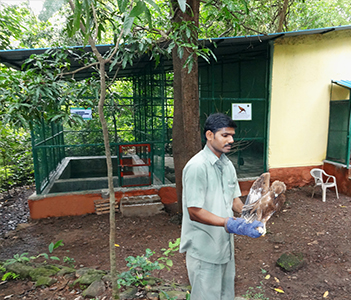 WCT supports local NGOs and individuals working to rehabilitate injured wild animals or those rescued from the illegal wildlife trade. In 2014, WCT supported the Thane Society for the Prevention of Cruelty to Animals (TSPCA), Bombay Society for the Prevention of Cruelty to Animals (BSPCA), Wildlife S.O.S and the Resqink Association for Wildlife Welfare (RAWW). The raptor rehabilitation centre created by TSPCA in Karnala Bird Sanctaury provides injured raptors with needed medical attention and ample space for them to recuperate before they are released into the wild.
Header image © Shashank Dalvi