Mr. S. Ramadorai

S. Ramadorai is Advisor to the Prime Minister in the National Skill Development Council and the Vice Chairman (Non-Executive) of Tata Consultancy Services (TCS). He has served at TCS for two decades and is also the Chairman of Tata Elxsi Ltd., Tata Technologies Ltd., CMC Ltd. and CRL Ltd. He is a board member of several institutions including Tata Industries, Hindustan Unilever Limited, Bombay Stock Exchange and the M.I.T. Sloan School of Management. In 2006, Ramadorai was awarded India's third highest civilian honour, the Padma Bhushan, for his exception contribution to the IT industry. In 2009, Queen Elizabeth II awarded him the CBE (Commander of the Order of the British Empire) for his work in Indo-British economic relations.
Mr. Anshu Jain

Anshu Jain joined Deutsche Bank in 1995, was appointed Head of Global Markets in 2001 and became a member of the Group Executive Committee in 2002. In 2009, he became a member of the Management Board and took up the mantle of Co-Chairman of the Management Board in 2012. He is also the former Co-CEO of the bank. He has an MBA in Finance from the University of Massachusetts and a BA in Economics from Shri Ram College, Delhi University. After graduating, he worked at Kidder Peabody in New York till 1988 and then moved on to set up and run the global hedge fund coverage group for Merrill Lynch, New York. In 2010, he received the Risk Magazine Lifetime Achievement award and in 2012, he was honoured as the Economic Times Global Indian.
Mr. Amit Chandra

Mr. Chandra joined Bain Capital as a Managing Director in early 2008, and is a part of the firm's leadership team in Asia. He received his undergraduate degree in Electrical Engineering from VJTI, Bombay University, post which he worked at India's leading engineering & construction firm, Larsen & Toubro. He then received his MBA from Boston College and was awarded the school's Distinguished Alumni in 2007.
Prior to joining Bain Capital, Amit spent most of his professional career at DSP Merrill Lynch, a leading investment bank in India. At the firm, he had direct oversight of its Global Markets & Investment Banking business, which included the firm's substantial principal investment businesses. He retired from DSP Merrill Lynch in 2007 as its Board Member & Managing Director, to move to Private Equity.
Mr. Chandra was named a Young Global Leader by the World Economic Forum in 2007 and was named in Asia's Heroes of Philanthropy list by Forbes in 2016. He is currently a Member of the Board of Directors of Tata Sons Limited, Genpact, L&T Finance, and Emcure Pharmaceuticals. He retired, in recent years, from the Boards of Piramal Enterprises, Tata Investment Corporation and The Akanksha Foundation. He is also active in India's not for profit space, and serves as a Trustee of the Tata Trusts, Founder/Board Member of Ashoka University, and Board Member of Give India (India's leading philanthropic exchange).
Ms. Naina Lal Kidwai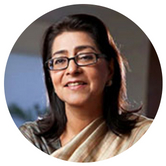 Naina Lal Kidwai is the Chairman of Max Financial Services and Senior Advisor at Advent Private Equity. She is also a non-executive Director on the boards of Nestle SA and CIPLA Ltd. and was the President of FICCI (Federation of Indian Chambers of Commerce & Industry). She retired on December 2015 as Executive Director on the board of HSBC Asia Pacific and Chairman HSBC India. She is Chairman of the Harvard Business School, South Asia Board. An MBA from Harvard Business School, she makes a regular appearance on listings by Fortune since 2002 and others of international women in business.
She has received many awards and honours in India and was awarded the Padma Shri, for her contribution to Trade & Industry, from the Government of India in 2007. Her interest in water, the environment and empowerment of women are reflected in her board positions of not-for-profit institutions like Shakti Sustainable Energy Foundation, The Energy Resources Institute, International Advisory Council of the Inquiry of United Nations Environment Program (UNEP), Commissioner for the Global Commission on Economy and Climate, Chair of FICCI's Water Mission and FICCI's Inclusive Governance Council and Chair of the India Sanitation Coalition.
Mr. Prashant Trivedi

Prashant Trivedi is the CEO of the Multi-Act Group of Companies; CIO of the Multi-Act Family Office and Chairman of the Indian Card Clothing Co Ltd. He founded and currently holds the position of Chairman at Multi-Act Trade and Investments (Pvt) Ltd. He is also the Director of Great Plains Holdings (Kenya) Limited; a company operating eco-tourism lodges in Kenya.
Mr. Dereck Joubert

Dereck Joubert is an award-winning filmmaker, National Geographic Explorer-in-Residence and a wildlife conservationist, who has been filming, researching and exploring in Africa for over 30 years. His mission is the conservation and understanding of the large predators and other key wildlife species that determine the course of all conservation in Africa. Along with Beverly Joubert, he is the founder of the National Geographic Big Cats Initiative and is the Chairman of the Initiative that has funded over 94 grants in 27 countries for the conservation of big cats. They have made 30 films for National Geographic, published 11 books, half a dozen scientific papers, and have written and photographed many articles for the National Geographic Magazine. Their films have received international recognition with major accolades including 9 Emmys, a Peabody, Wildscreen Panda Awards and a Lifetime Achievement Award at Jackson Hole the Japan Wildlife Film Festivals, to name but a few. Dereck is the recipient of a World Ecology Award and they have both been awarded the Presidential Order of Merit in their home country, Botswana.
Dr. Thomas Kaplan

Dr. Thomas Kaplan is the Founder of Panthera, an organisation dedicated to saving the world's wild cat species. He and his wife, Daphne Recanti Kaplan, endowed the Recanati-Kaplan Center at Oxford University's Wildlife Conservation Research Unit and today; their felid conservation programme, WILDCru; is attended by wildlife enthusiasts from around the world. Kaplan is the Chairman and Chief Investment Officer of Electrum Group LLC. In 2014, he was awarded the Légion d'Honneur of France.
Mr. Alok Kshirsagar

Alok Kshirsagar is a Senior Partner with McKinsey & Company with broad experience in performance improvement and growth initiatives through his time in the firm's London, New York and Mumbai offices. He leads McKinsey's Asia Risk Management Practice to build resilient business models and increase returns in uncertain markets. He has also led the McKinsey Asia Centre – a special initiative to mobilize the best insights, capabilities and relationships to help leading Asian and western Multinational companies capture the full value of globalization. He also co-leads McKinsey's relationship with the Government of India focused on Digital innovations, Infrastructure Finance and other national priorities. He is the Honorary President of the National Association for the Blind, Karnataka, serves on the Board of PRS Legislative Research and on the Next Gen Leaders Board of the Indian School of Business. The World Economic Forum named him a "Young Global Leader" in 2012. As an Inlaks scholar, he has received a postgraduate degree in Politics and Economics from Oxford University.
Header image © Dr. Anish Andheria